At CEMTEC's pilot plant, several single machines are in use for conducting tests from batch grinding to continuous grinding tests on a semi-industrial scale. As batch grinds always provide only a partial result or a parameter and do not map the entire continuous process, we also perform continuous grinding tests. 
With the grinding plants available, CEMTEC covers a very broad range of comminution. The following equipment is available for such grinding tests in order to identify the product or design, or to optimize a process:
Ball mill "DORIS" (dry and wet)
Rod mill "WALBURGA" (dry and wet)
Wet mill "OLGA"
Vertical roller mill "STEFANIA"
Vertical roller mill "BARBARA"
Vertical roller mill "ANDREA"
Ball Mill "DORIS" – Rod Mill "WALBURGA"
This semi-industrial plant offers the most flexible product development and grinding circuit optimization possibilities as well as the option to produce larger product quantities.
The basis of this plant is a ball mill with
Diameter: 1.2 m
Grinding length, variable: 1.8–3.2 m
Installed drive output: 35 kW
Depending on the objective, this mill is integrated into the grinding circuit either as a ball mill or a rod mill. The grinding plant has the following characteristics:
A material mix consisting of up to three components as feed
Two air classifiers of the latest generation for classification
Separation of the product from the material via pulse bag filters
Circuit load determination by mass flow weighing in circulating flow
Continuous sampling points
Complete process monitoring and evaluation of all relevant and characteristic parameters (power, temperature, mass flow rate, etc.)
Ball mill "OLGA" is used at CEMTEC to grind smaller product quantities in a continuous circuit.
The mill has the following technical data:
Diameter: 0.6 m
Grinding length, variable: 0.7 m
Installed drive output: 15 kW
This mill is typically operated using a hydrocyclone with a diameter of 2″ in the circuit. The fresh material is fed on a vibration chute.
Vertical Roller Mill "STEFANIA"
A total of three different vertical roller mills is used at CEMTEC's pilot plant. The largest of them, "STEFANIA", has a disc diameter of 670 mm. The mill can be operated with a hot gas generator to combine grinding and drying in one process step. The mill is equipped with a turbo-classifier of the latest generation, which is operated with a nominal air flow of 5.000 Bm³/h. Products with d98 = 6 µm (based on calcium carbonate) can be produced. As a special feature, the mill has a coarse outlet, which means that the coarse material separated and rejected by the air classifier can be discharged from the mill.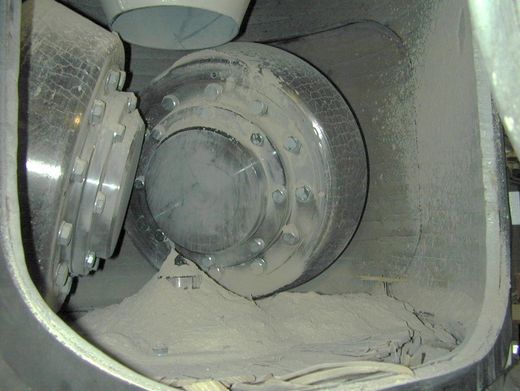 A total of five batch mills, which are used for product generation and identification, are in operation at CEMTEC's pilot plant:
Batch mill "Resi" ø 0.3 × 0.6 m (rod mill), minimum required sample quantity 20 kg
Batch mill "Ella" ø 0.3 × 0.3 m (ball mill), minimum required sample quantity 15 kg
Batch mill "Minna" ø 0.8 × 0.9 m (ball mill), minimum required sample quantity 70 kg
Batch mill "Fiffi" ø 0.5 × 0.4 m (ball mill), minimum required sample quantity 20 kg
Batch mill "Gretchen" ø 0.5 × 0.4 m (ceramic mill), minimum required sample quantity 20 kg